Each month, The Rootwise Hub supports and celebrates a social change organization that is disrupting, making history right now, and paving the way for a more inclusive future. 
This month, we recognize Project Potential, an organization embarking on a journey of bringing sustainable rural development to more people in rural India. Guided by their eArth philosophy, the organization seeks to regenerate our earth with a movement of self-empowered community leaders who want to create change and lead sustainable development in rural India.  "It's all about using local, available resources to help the community achieve their self-defined goals," says University of Pennsylvania graduate and founder Zubin Sharma. Led by an inherent belief in each person's capabilities, connection to the whole, and the power of the human spirit, Project Potential inspires people to contribute to the betterment of their own communities. What sets Project Potential apart is that they believe in what people are truly capable of, and they won't stop working until everyone in their communities has an opportunity to lead.
The Path to Collective Well-Being
Through Sharma's first NGO addressing sustainable rural development in India, SEEKHO,  the leadership at Project Potential understood that to develop an effective strategy and collective culture, they needed to ask the right questions. "We don't ask them (villagers) about their problems. We ask them to suggest solutions, and based on their feedback, we devise a plan and work with them to help them reach where they want. This is about building participative leadership," said Sharma. On an early trip to Bihar, India,  Sharma asked the community, "what are our shared goals for the future?" and the answer was education. Over the course of seven years, they've been able to provide education to nearly 2,000 children and families. 
The hallmark of exceptional leadership is the ability to adapt and evolve: to be open to the emergence of new information and new opportunity. When Project Potential's community conversations revealed the impediments to quality education were not just about access but also about systemic challenges like poverty, hunger, and inadequate healthcare, they adapted. They seek to meet the needs and potential of the leaders they support, mentor, and develop. They respect the talents of the rising rural community leaders and aim to empower them to face challenges by creating an atmosphere in which they can experiment towards their own solutions.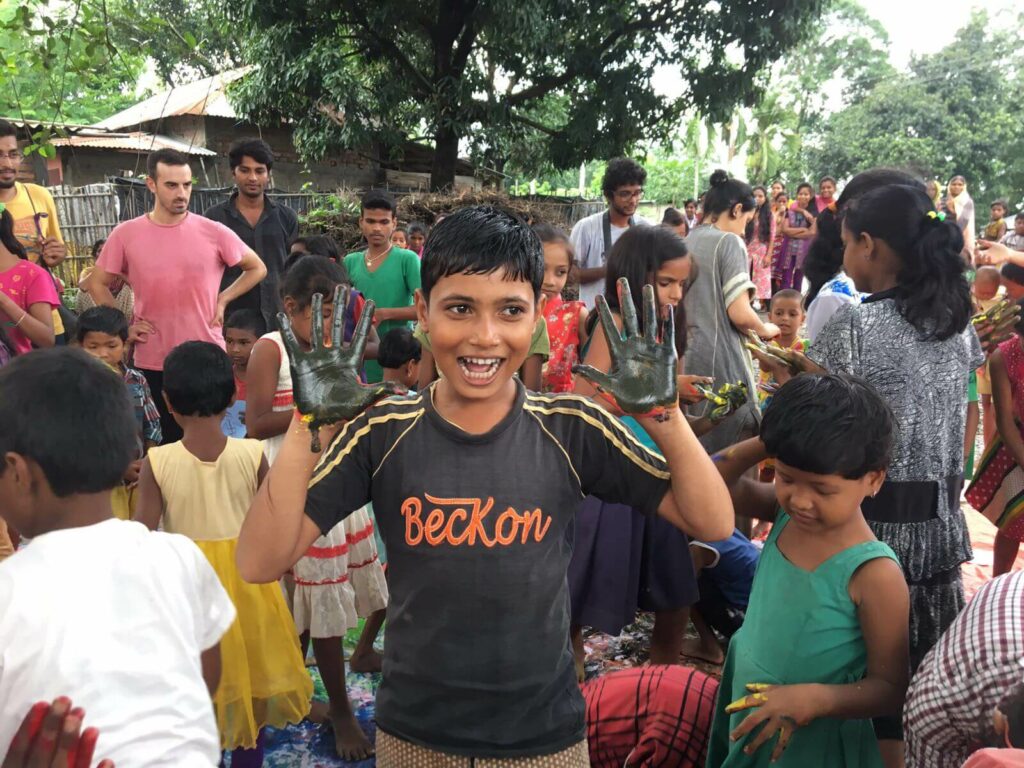 Devotion to the Service of Others
The organization has gradually broadened its efforts and is currently working in 30 villages across the adjacent districts of Kishanganj, Araria and Supaul in northern Bihar. To actualize their movement, they founded three community-driven programs: eArth Kala Manch (art and theater), eArth Nirmaan (construction and habitat), and eArth PaathShala.  eArth Paathshala's goal is to improve the quality of education in the villages it serves by combining access to top pedagogy, tools, and methods from all over the world and community-driven efforts. Since its founding, they've developed reading camps with over 5000 children and a teacher changemaker network that supports over 75,000 students.  They've also implemented their vision by establishing a model of sustainable living that borrows from local ecologists, cross-disciplinary research, and an internal team of social organizers, craftspeople, farmers, designers, architects, and engineers. 
In addition to the programs, Project Potential created a space to model sustainable living in daily life and for everyone to explore self-awareness, community involvement, and environmental sustainability. Nestled between West Bengal, Nepal, and Bangladesh, with close proximity to Sikkim, Bhutan, Project Potential built its eArthshala campus. At the campus, they provide a space for young people in rural communities to explore their interests and find meaningful employment. The team does this by simply being present in the community and giving youth opportunities to learn more about what excites or challenges them.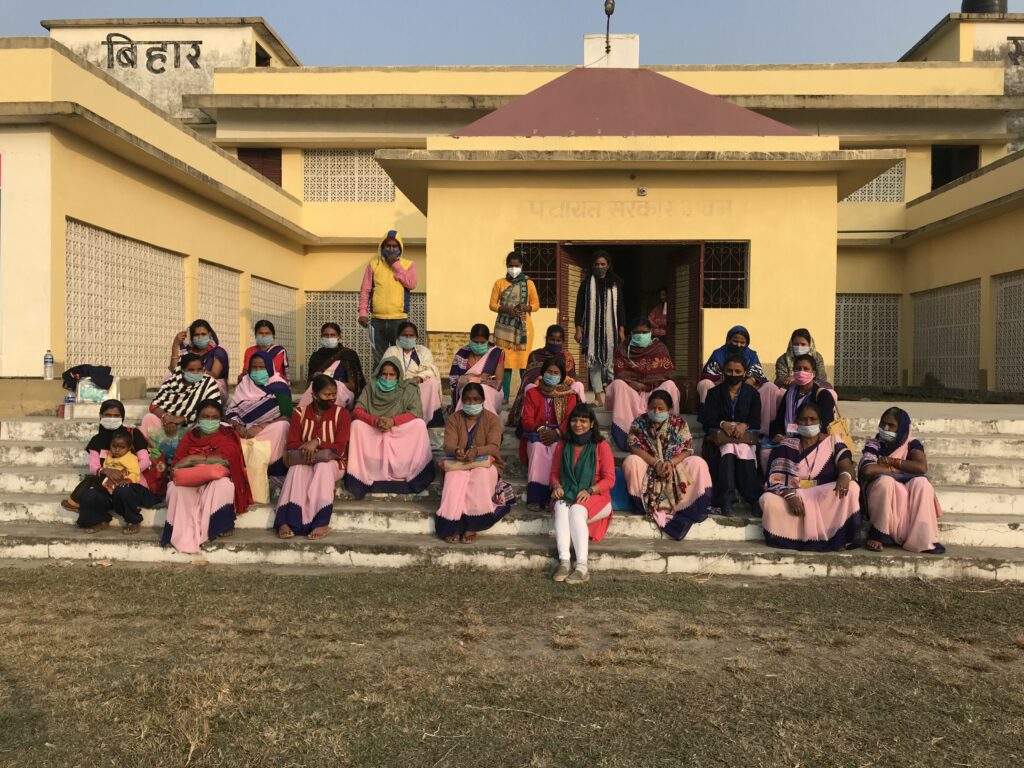 The COVID Impact
Despite being one of the world's largest economies, the poverty rate in India rose by more than 5 percent and over 134 million residents live in poverty. The inequality in India has only been exacerbated by the pandemic, revealing the numerous ways people are vulnerable. At the height of the pandemic, India's infrastructure and healthcare system crumbled under the pressure of the increased demand. India was experiencing record infection rates, topping over 400,000 cases in one day. With massive shortages of oxygen, medicines, and ambulances, patients had to wait in long lines for beds in hospitals' intensive care units. After a second wave of the virus decimated the country, international aid efforts ramped up to support the collapsing system. But, as with most healthcare solutions, India's most vulnerable populations in rural communities have been largely overlooked.
Project Potential's home base of Bihar, India is home to a large number of India's poor people. The city has seen poverty rates increase steadily over the last decade with the greatest rise in poverty between 2017-18 to almost 51%. Residents are struggling with Illiteracy, unemployment, famines, and malnutrition are some of the root causes of poverty in India. The COVID-19 has increased the socio-economic vulnerabilities in these rural villages and already-limited access to services and funding has been devastatingly strained. Recognizing the need, Project Potential developed a coordinated response to provide food and sanitary essentials to the poorest families in the communities where they work. Since its inception, Project Potential's COVID-19 Relief has received just over $20,000 in donations. (You can learn more and donate to their project here.)
Project Potential models the vision we hope to achieve: "a community and family built on super strong values and 110% committed to its people." The team at Project Potential serves as facilitators of local leadership and rural community transformation. Rather than top-down decision-making in rural development, Project Potential is committed to creating shared purpose and voice, to building trust, and to driving results based on local priorities. People at all levels are energized to contribute. By elevating community members' strengths, talents, and preferences and by connecting to deeply to themselves, a powerful sense of shared ownership for the whole endeavor has emerged. Project Potential recognizes the capability to produce great change is inside all of us, waiting to be accessed and released. "There are 700,000 villages in India, each of which has a changemaker. So we're going to find and empower a nation of changemakers, who will ensure that these villages, and India, survive and thrive."
To learn more about Project Potential, visit their website, Project Potential. You can also follow updates from the organization via their blog on Medium and on their Instagram @projectpotential.
Support Project Potential!
This month, we are grateful to announce that The Rootwise Hub will be supporting Project Potential with a portion of our profits. We invite you if you are willing and able to join us in showing your support.