The COVID-19 pandemic has challenged us, changed us, eroded and brought new life to how we live and lead. Our daily lives, from managing our health, working from home, to simple activities like dining out, all underwent rapid change. As we navigate these changes, we've also entered this moment of reckoning with long-standing racial and economic inequities, environmental disaster, and political polarization. And, we discovered that while we may not know what is next, we can be certain the models of the past will not suffice as we're reimagining our future.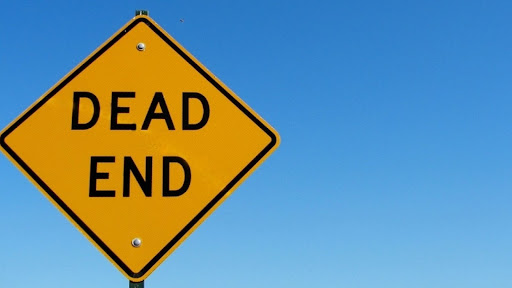 The Trouble with Traditional Models of Leadership
Many of us would like to think these past two years have been an anomaly, but we're not so sure. With technological advancements, automation, and growing global systems interconnectedness, the conditions for accelerated change have been here for years. The pandemic has simply revealed the inefficiencies and suffering created by our outdated systems and models of leadership.  Traditional leadership models reinforced hierarchical power structures that led to spaces that were less likely to have diverse influences.  Power concentrated at the top of leadership, based on title and status, doesn't foster collaboration based on our own unique strengths and shared knowledge.  This type of leadership fails us in social change.  We need room for transparency and mutual accountability — to allow trust and creativity to flourish.
We need a new form of leadership, better suited to build our collective future.
We need to consider the ways we can:
Move beyond control and comply models of leadership –

What kind of controlling and complying has been habituated in our bodies, minds, hearts, and systems?

Embrace a relational journey of leadership where we don't try to lead alone –

What narratives about heroic single leaders have captured our hearts while also erasing all the complexity, collaboration, and failures necessary for change?

Acknowledge that healing matters –

What needs to be lifted up, reckoned with, healed so that we may pursue the transformation that the world needs from us?
Collective leadership is a group of people coming together through intentional and liberatory relationships and processes to co-create results in their shared desired area of impact.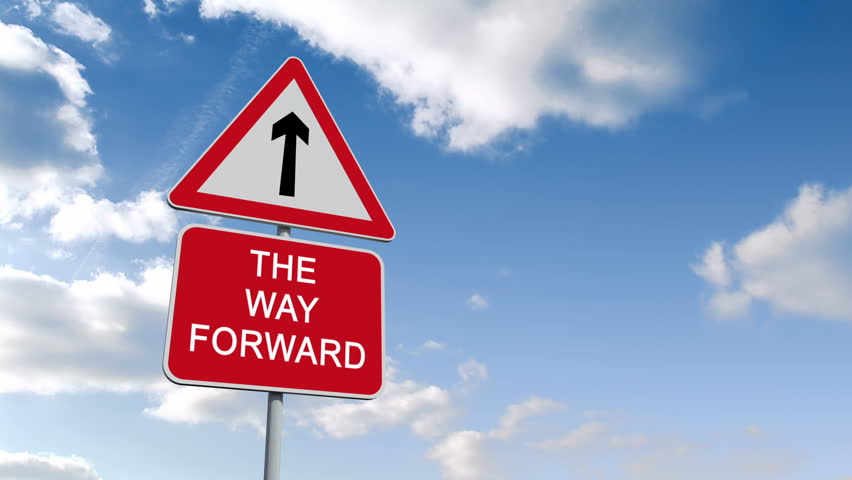 Collective Leadership – The Way Forward
There are so many ways that the world is nudging all of us, particularly those in social change spaces, towards collective leadership practices. We are being called on to re-envision our relationships to each other, to work, to power, and to systems. Our new reality led to real conversations about the potential for deeper and sustained collaboration. We're finding that teams and organizations find success based on their level of collaborative practices, collective development and dedication to self-reflection, transformation, and growth. This is such an important message to pay attention to, and yet, many leaders are struggling to figure out what this call means in their day-to-day choices and actions. It can be hard to create the conditions by which a group of people can individually and collectively live into their vision for the world and their full potential as human beings. 
Co-facilitated by Eliza Ramos of Circles International and Perry Dougherty of Rootwise Leadership, the Collective Leadership Certificate program offers an opportunity to explore how to create the ideal environment for your team to flourish, utilizing an embodied approach that leverages the wisdom of the group. It is designed to help social change leaders improve results by empowering people to trust and rely on each other and take responsibility for outcomes that one leader cannot address on their own. The transformational executive coaching & training experience applies cutting edge leadership customized to fit your needs.
Explore pathways to:
Achieve wider impact with your team

Lead & inspire others consistently

Distribute authority & decisions

Become more aware of self & systems

Enable diversity, equity, and inclusion

Cultivate accountability and trust

Engage in more satisfying collaboration
In the program, we unpack the essential skills to develop in this way and to create the conditions for collective leadership to thrive. Those skills include layers of listening, conflict transformation & essential conversations, contextual power analysis, compassion & boundaries. Practicing these skills cultivates an environment that empowers people to trust their own judgment and knowledge, align with their core values, and commit to a shared vision.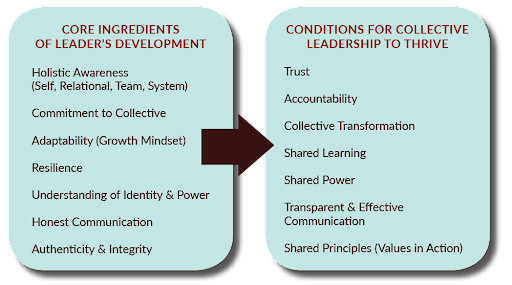 Knowing the challenges social change leaders face, we invite folks to examine the beliefs and assumptions that guide their leadership, explore pathways to more grounded ways of engaging groups of individuals in leading together. The program deepens participants' awareness of themselves, the larger system they are a part of and of their impact on others. Our cohorts are intentionally crafted so leaders may look to others with the hope that doing so will change how they see themselves, opening ourselves to new ideas, solutions and to explore our limits and potential. It's an opportunity to practice and participate with care and attention and in community that feels responsible for each other. 
At every level, we want to encourage people to take responsibility for leadership whenever possible. This program is not just for seasoned change makers looking to open themselves up to new ways of leading but it is also for emerging leaders, teams, and anyone inspired to lead collectively in their role. The world needs more people who are equipped to co-create the collective leadership practices and structures that will meet the needs of our time. Join us in creating the conditions for you and your colleagues to stay connected through shared learning, power, and change.
Apply to join us today!
Applications are open for the 2022 cohort of the Collective Leadership Certificate Program until November 15, 2021.